The hot sale hzs60 ready mix plant for batching and mixing of concrete is a concrete batching plant with a capacity of 60m3/h. It's equipped with a JS1000 concrete mixer, which has the characteristics of uniform mixing, good mixing quality and high efficiency. The mixing system adopts the pld1600 type concrete batching machine, which can be designed with three or four warehouses, and can also be measured with single metering and accumulation metering. The feeding system adopts inclined belt conveyor for feeding, and the special material channel with stable operation, uniform feeding and fast delivery is closed design. The storage system of anti noise storage system adopts vertical cement bin design, with sufficient capacity, less land occupation and high efficiency. According to the needs, we can choose multiple cement silos to design the control system. The control system adopts the full-automatic integrated control design, which is easy to operate and learn. It can also be set semi automatically or manually.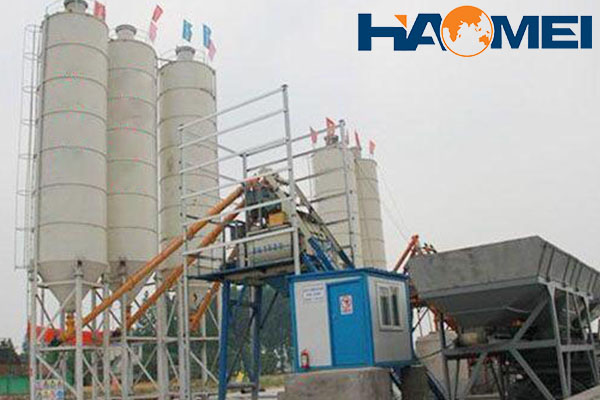 The hzs60 concrete batching plant is composed of material storage system, conveying system, control system, metering system, pneumatic system and other major parts. The material storage system, namely the cement bin, is used for the storage of bulk cement in the mixing station; the conveying system has two conveying modes, i.e. belt conveyor and screw conveyor. The belt conveyor is mainly composed of two end rollers and the closed conveyor belt on the tight sleeve. The screw conveyor is composed of high-quality steel pipe, deceleration box, medium lifting bearing, etc.
  The theoretical production of a hzs60 ready mix plant for batching and mixing of concrete is 60 cubic meters per hour, but the actual output might be only 40 or 50 cubic meters, which is up to the quality of the plant you purchase. Quality can not be judged simply by appearance, and that's why many clients prefer low prices. Poor quality means short service life, high maintenance cost and frequent interruption of project progress. The structure of concrete mixing plants we produce is of high-quality H-shaped steel featured by high structural strength and strong stability. Such plants are beautiful in appearance, easy to install and suitable for a variety of complex terrain. If you want a fully automatic concrete batching plant, you will be able to clearly understand the operation of each part, monitor each interface directly, and observe the site workflow accurately.