HM Machinery is among leading mobile mobile concrete batching plant manufacturers in China. We supply 25m3, 35m3, 50m3, 60m3 and 75m3 mobile concrete plants.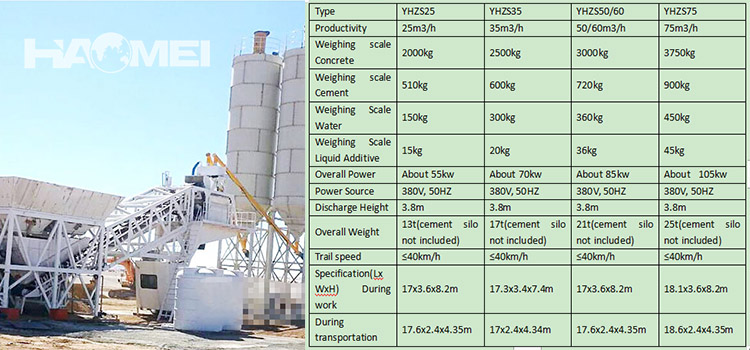 The mobile concrete mixing plant is a concrete production equipment that integrates the material storage, weighing, transportation, mixing, unloading and automatic control system with a trailer unit. The operation process, operation mode and maintenance are exactly the same with those of stationary.
  Features
  1. The mobile concrete batching plant price varies from model to model and supplier to supplier.
  2. At present, plants supplied by China mobile concrete mixing plant manufacturers are mainly divided into two types: traction type and trailer type. The traction chassis contains a complete front and rear axles; the trailer type chassis only has the rear axle, and the front end is placed on the saddle bridge of the tractor.
  3. A mobile concrete mixing plant is more suitable for small and medium-sized short-term projects like roads, bridges, highways etc. The mobile mixing station is equipped with tires, towing pins, traffic signal devices, and braking systems. The towing speed of the trailer can reach 50 km/h.
  4. A mobile concrete plant is free of foundation, disassembly and assembly, and can be directly towed away by car pallet. It occupies a small area, is convenient and fast, and has high efficiency.
  5. The external dimensions of all components of a YHZS50 mobile batching plant for sale are smaller than the internal dimensions of the container. The entire station requires three 40-foot containers.
  Operation Points
  During the transition: In addition to the screw conveyor and cement silo, the front end of the entire mixing plant can be hauled and moved; other such as the walking platform and the heightened plate are folded, and all control cables need not be disassembled. The removed accessories can be taken away with the station.
  During installation: The ground must be leveled and hardened, and disassembly or assembly entails adoption of a 30-ton crane.
  During storage: If the equipment is temporarily not in use, keep the transportation status during transit transportation and use a trailer to drag.