The main difference between a fully-automatic and a semi automatic concrete batching plant lies in their control system, and other devices of the two kinds of plants are similar. The fully automatic plant uses a fully automatic control system, and the semi-automatic plant uses a centralized control system.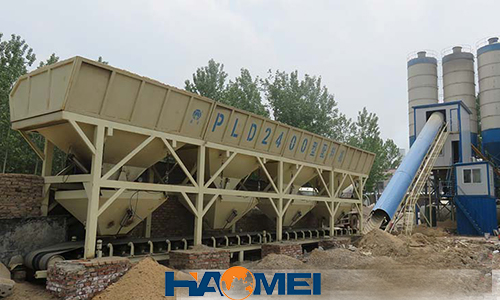 The biggest advantage of a fully automatic concrete batching plant is that the control is simple and easy to operate. Just raise your hand quietly and click this button, all the work will work by yourself, all without the need for hands, It will be done in one step by the screw conveyor. For example, in the process of powder unloading and weighing and conveying, click the operation button, the material will be automatically discharged from the cement silo to the screw conveyor, and the screw conveyor will be evenly placed in the weighing hopper, and then automatically discharged to In the concrete mixer, the entire production process can be completed automatically with just one click. It is very simple and convenient to use, and is very suitable for mixing stations with few staff. The automatic concrete mixing plant is easy to operate and saves labor costs, but the initial purchase cost is relatively high.
  A semi automatic concrete batching plant is not so simple. Its work is completed step by step. For example, when the concrete work is loaded, click the loading button, then the material will be automatically transported to the weighing hopper. Click the unload button when unloading, the material will be automatically discharged into the mixer, the centralized control system needs more people to participate. The advantage of the semi-automatic mixing station is the low initial cost, but the disadvantage is that it requires more manpower to operate, that is, the labor cost is high.