A mobile concrete batching plant is special in its batching method, mobility level and concrete mixer type.
  Ingredients batching method
  Because in a mobile concrete mixing plant, all the materials are fed by the batching machine through the belt conveyor, but because of the good angle design, it will not take up too much space, but the transportation efficiency of the belt must be strictly investigated. We know that the belt The greater the angle of the conveyor, the more likely it is that material will be scattered, which will affect the mixing quality. Therefore, the feeding method of the mobile concrete mixing plant is specially designed.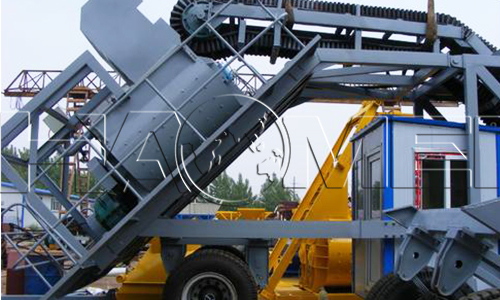 Strong mobility
  The mobile capacity is reflected in the transportation status of the mobile concrete mixing plant, so the design must be convenient to move. The previous old-fashioned mobile concrete mixing plant has a relatively dragged overall structure and needs to remove a large number of ladders and outriggers, which is very inconvenient. The new mobile concrete mixing plant is very convenient to move, and the supporting control room can be quickly collected under the belt conveyor. It is very convenient to carry out transportation by simply removing a few legs.
  Mixer configuration
  The mobile batching plant mixer falls on two types: JZM and JS concrete mixers. Fixed mixing plants generally only have JS or planetary mixers, because their scale is generally larger, and there are many types of commercial concrete to be produced. Only mandatory mixers can be used in concrete types. And the mixing efficiency meets its production requirements, too.
  Haomei Machinery supplies a full series of models of mobile batching plants, and are able to pack and arrange shipment in a short time, for we have machines in stock. Welcome to contact us for a price!