Configuration
  A dry mix concrete batching plant is also called dry mixing plant. It does not have a mixing host and all materials, including aggregates and powders, are directly discharged into a concrete mixer truck for further mixing after being weighed. Correspondingly, the equipment for a dry-mixing stations includes: aggregate feeding system, powder feeding system, control system, batching machine, etc., but there is no concrete mixer or liquid conveying system.
  Operation process and capacity
  After completing the batching and weighing action, the aggregate and cement are put into the mixing tank of the concrete mixer truck, and the preparation is completed under the stirring action of the mixing tank, and the water and additives are provided by the mixer truck. That's how the name of a dry mix concrete batching plant comes. Owing to the fact that the mixing task of concrete is finished during traveling of a concrete mixer truck, a dry mix plant is also called a dry mix mobile concrete batching plant. But its capacity range is far larger than that of a wet mobile plant, from 25m3 to 180m3, and even larger.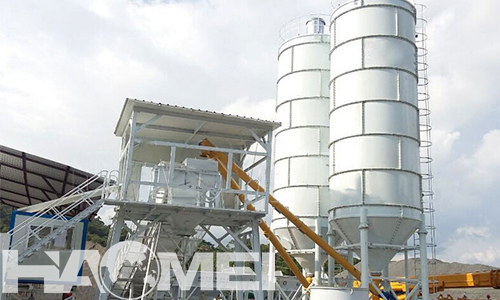 Price
  Cheaper than wet mix plants, for there is no concrete mixer.
  Advantages
  Because of the special working mode, a dry mix concrete batching plant is suitable for the task of providing concrete to a remote transportation site. The mixing process is completed in the mixer truck, which saves the construction period and can also slow down the initial setting time of the ready-mixed concrete. The quality of the concrete can be ensured even when it is transported over long distances.
  Disadvantages
  In spite of low cost, dry mix concrete batching plants are not competent in mass concrete production. First, the work efficiency cannot keep up, because the effective mixing volume of a mixer truck is too small to meet mass production. Second, if you purchase too many mixer trucks to match a dry mix concrete plant, the cost will increase and the economic benefits will be greatly reduced. Therefore, when purchasing, the dry mixing plant can be used as a good supplementary equipment, but it cannot be used as a mainstream concrete mixing plant.