HZS25 concrete batching plant is the most commonly used model in engineering projects. It can mix 25 cubic meters of concrete per hour. Its main configuration includes a JS500 forced concrete mixer, a PLD800 batching machine, one 100t cement silo, two 219 screw conveyors, a weighing measurement system, an electric control system and an electrical system. The whole set of equipment has a small footprint and low investment cost, which can be applied to most general-scale engineering projects.
  The meaning for the model of HZS25 concrete batching plant are as followed. The HZS refers to stationary concrete mixing plant, and 25 25 cubic meters concrete produced per hour. HZS25 generally refers to a small concrete mixing plant, with an hourly capacity of 25 cubic meters. These are a special China model for stationary concrete batching plants. Some models might be slightly different, but the configuration is more or less the same.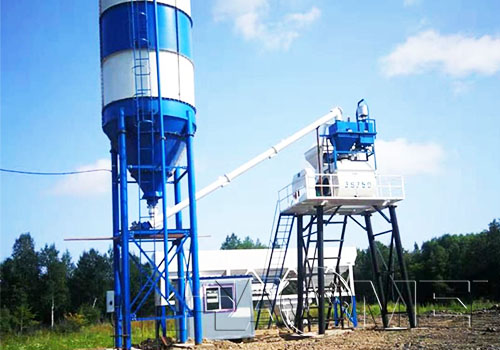 The standard configuration of the plant proves to be more expensive for people with lower budgets. Then there is a simper configuration as a substitute. The yhzs25 concrete batching plant can also be formed by an aggregate batching machine of 1600L and a concrete mixer of 25m3 per hour, either drum or forced type. The owner need to equip the plant with an extra water tank. This configuration is convenient and quick in installation and movement, takes up a small flooring area and has a low investment cost.