This page shares configuration, features, price and purchasing tips of the hzs60 60m3 stationary concrete batching plant.
Configuration
Model
hzs60 concrete batching plant
capacity(m3/h)
60
Concrete mixer
model JS1000
Aggregate size(mm)
≤80
Power(kw)
2*18.5
capacity(m3/h)
50-60
Distributing machine
PLD1600
power(kw)
30
Weighing precision
aggregate(kg) ±2%
cement(kg)
±1%
Ash powder(kg)
±1%
water(kg)
±1%
additive(kg)
±1%
Total power(kw)
130
Discharging height(m)
4.1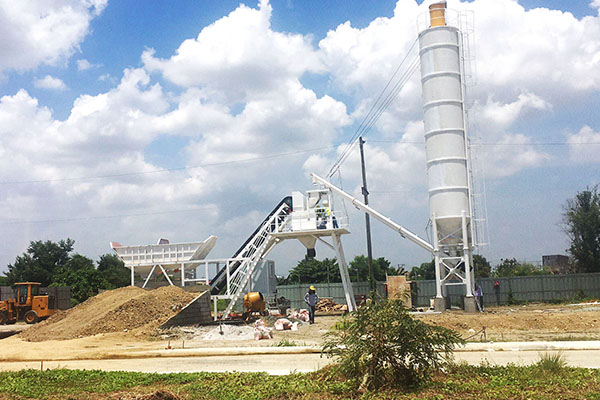 Features
1. The 60m3 concrete batching plant is equipped with a JS1000 forced double-horizontal mixer, which has the characteristics of strong mixing ability, good mixing quality, high productivity, long service life and high reliability. It meets the requirements of national standards in terms of plasticity, semi-dry rigidity, and dry rigidity All kinds of concrete can complete good mixing.
2. Regardless of the measurement of aggregate, powder, water and liquid additives, the main components of the measurement and control systems are imported, and the whole hzs60 stationary concrete batching plant is controlled by microcomputer. The sampling speed is more than 120 times per second, with drop correction and automatic compensation.
3. The plant is equipped with the national admixture metering scale pneumatic conveying device to measure and transport the admixture to avoid quality accidents caused by the failure of the admixture system.
4. Our hzs60 concrete batching plant have a touch screen, two sets of operating systems and three working modes (manual, semi-automatic, automatic), ensuring that the equipment operates reliably.
Price
If you would like to have a specific price for a concrete batching plant 60m3, welcome to send us details and your contact ways. We will give you a satisfying price based on your actual needs.
Purchasing tips
Compare several suppliers in professionalism, price and service.
Price matches quality.
Focus on your practical needs and budget.