The working principle of a mobile concrete batching plant China is similar to that of a traditional stationary concrete mixing station. The mobile station generally uses JZM drum mixer or JS forced mixer, and the same type of mixers has different output. Generally, output of a JS1000 mixer for a mobile plant reaches 50 square meters, while that of a 1000 roller mixer is only between 25 and 30 square meters. Therefore, when we purchase a mobile mixing plant, the top concern should be the output rather than the model of a mixer .
  The bins for a mobile concrete batching plant China are arranged in a straight line. The loading machine can keep two, three or four kinds of aggregates at the same time. The measured aggregates are transported to the host through flat belts and lifting systems.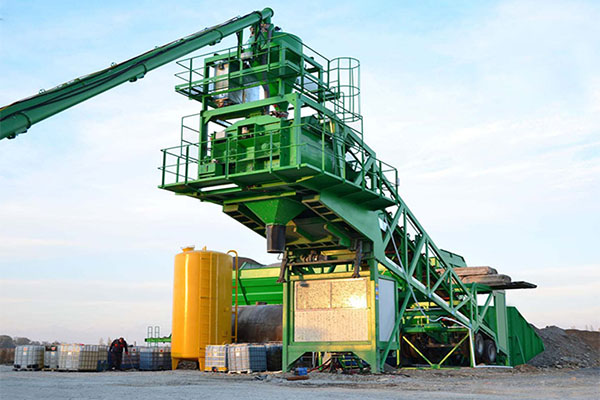 The powder batching system can be equipped with four powder silos, and the powders are respectively sent from the respective screw conveyors to the corresponding powder metering buckets. The water and liquid admixtures are pumped to the corresponding liquid material measuring hopper.
  The aggregate of the mobile mobile concrete batching plant adopts the loading method of the loader. The batching machine can store four kinds of aggregates at the same time. The aggregated aggregate is sent to the intermediate storage bin of the upper part of the main building through the horizontal belt conveyor and the inclined belt conveyor. A can of metered aggregate can be stored.
  According to the needs of the client, the silo can be set into two cement silos, two dosing bins, cement and admixtures are respectively sent to the corresponding measuring bins by respective screw conveyors. Water and admixtures are pumped separately into the respective metering hoppers.
  According to the program or manual instructions, various metered materials are sequentially added to the mixing machine to produce qualified concrete within the specified time.
  In pursuit of the spirit of professional dedication and excellence, Haomei Machinery supplies mobile concrete batching plant in China of 25m3, 35m3, 50m3, 60m3 and 75m3 per hour. Welcome to contact us for more information!