JS750 concrete mixer a discharge of 0.75m3, is also a small HZS35 concrete batch plant supporting the mixing host, with a uniform mixing, low power consumption, high productivity advantages, built-in eddy current mixer to prevent the unity of the material knot, etc., the forced concrete mixer, including eddy current mixing institutions, planetary mixing mechanism, discharge mouth, discharge agencies, mixing shaft, mixing rack and chassis and other parts.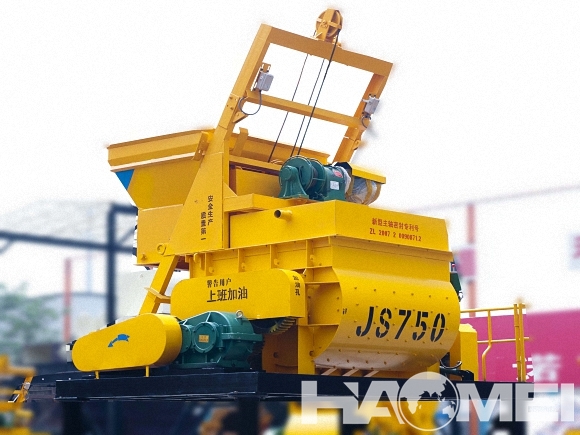 JS series of concrete mixer is a double horizontal shaft forced concrete mixer, with stand-alone and PLD series of ingredients into a simple concrete batching plant of the dual advantages, but also for the batching plantto provide supporting host for all types of large and medium small concrete prefabricated components and roads, bridges, water conservancy, wharf and other industrial and civil construction projects, can be mixed with dry hard concrete, plastic concrete, mobile concrete, light orthopedic concrete and a variety of mortar, is a high efficiency models.
JS750 type concrete mixer belong to dual-axial concrete mixer, by combine with feeding mechanism, mixing mechanism, discharge, water supply system, electric control system and other parts.
JS750 concrete mixer with a reasonable structure, mixing quality, time is short, low energy consumption, low noise and other characteristics. Electrical control systems are used high-quality components, excellent performance, reliable high, with anti-Chongding function. The standard discharge capacity of the machine is 1.6m, 2.7m, 3.8m three (or user-defined), the user can use the dump truck or concrete mixer truck supporting the use of 1.6m discharge height can be directly with the concrete boom pump .
JS750 double horizontal shaft forced concrete mixer feed capacity is 750L, the discharge capacity of 1200L, the theoretical productivity of not less than 35 square per hour, the device has a reliable transmission, noise filial low energy consumption, compact structure, smooth operation, easy operation, Stirring a good quality, stirring force, power consumption is small, strong power, built-in eddy current mixer to prevent the material knot solidarity and other advantages